Support Lehrman at Our Literati Book Fair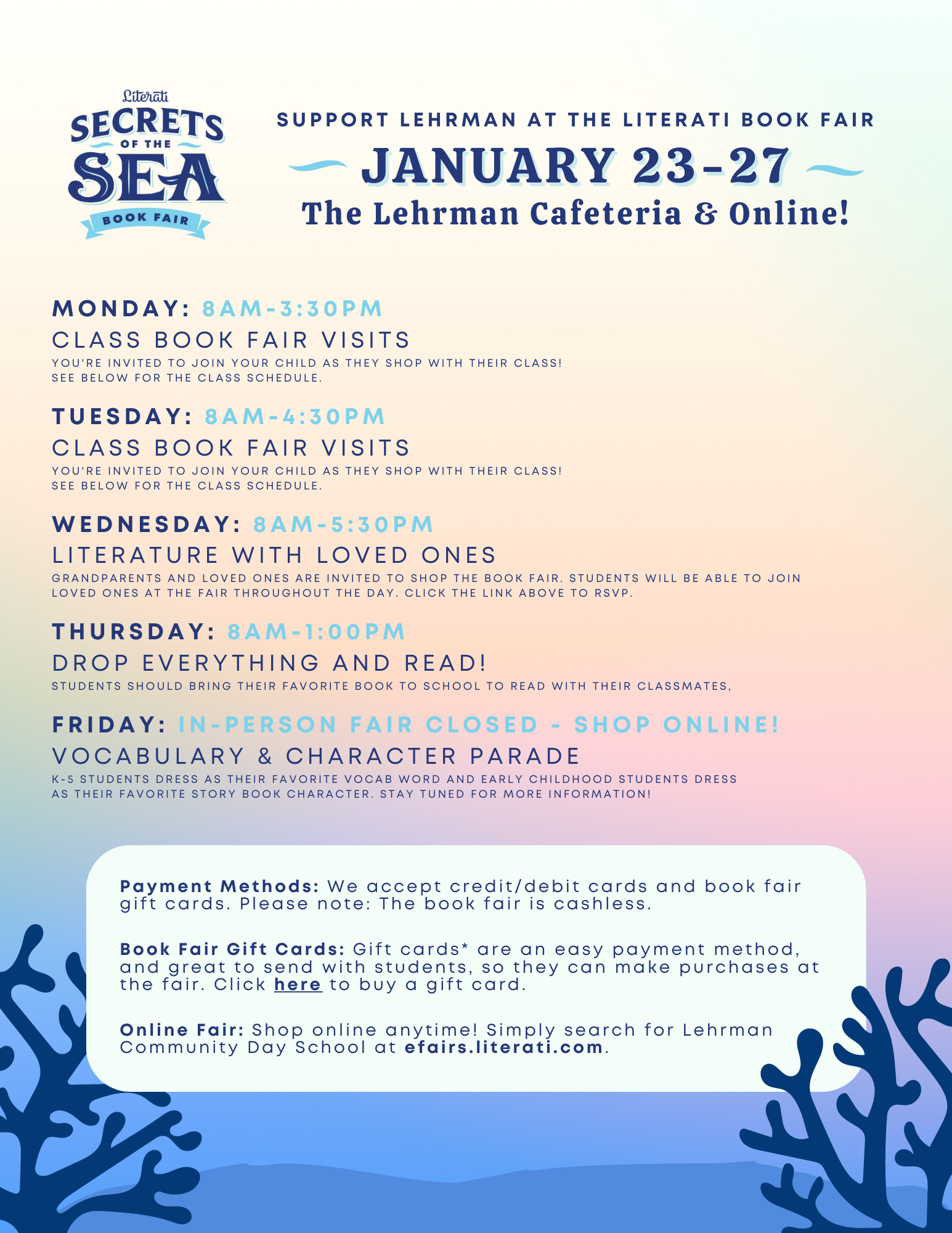 ---
Book Fair Class Visit Schedule
Monday, January 23
9:00am - Judi Fishkin
9:30am - Karen Alvarez
10:00am - Lindsey Immergluck
10:30- Jorge Sainz/Clari Delarosa
11:00am- Hope Stern
11:30am - Janet Fein
12:00pm - Irina Weinshel
12:30- Ingrid Jaehnig
1:00pm - Emily Kanter
1:30pm - Ashley Gabelman
2:00pm - Jen Rothman
2:30pm - Allison Shusterman
Tuesday, January 24
9:00am - Jelena Matovic
9:30am - Betsy Levy
10:00am - Ms. T
10:30am- Angie Cabiya
12:30pm - Kenny Michelson
1:00pm - Cintia Guinsburg
1:30pm - Jaclyn Avenilov
2:00pm - Gina Schwartzman
2:30pm - Caroline Kapp
Wednesday, January 25: Literature with a Loved One
Grandparents, aunts, uncles, friends and loved ones are invited to come to Lehrman to shop the Book Fair! Click here to RSVP.
Note: Turning Twos, Toddlers and Nursery parents are invited to shop the Book Fair in-person during store hours (and anytime online!). Parents are welcome to pull their child(ren) from class to shop with them at a time of their choosing.
Author Visits - Order Books
As part of the programming for Lehrman's Book Fair Week, the PTA has arranged for authors to visit with our students on Tuesday, January 24.
PTA is pre-selling signed books from each of the authors. If you would like for your child(ren) to receive a book(s) on the day of the author visits, please click below. Book orders must be submitted by Sunday, January 22.
Toddler & Nursery - Zack Bush (Click here to order)
PK & Kindergarten - Andy Amendola (Click here to order)
Grades 1-2 - Lauren Grabois Fischer (Click here to order)
Grades 3-5 - Dr. Diane Wander (Click here to order)